what are life plan
communities?
If you've ever researched upscale senior living communities in the heart of the Bay Area, you may have heard different terminology used to describe these luxurious communities. For years, the traditional name for a retirement community offering different levels of care has been Continuing Care Retirement Community or CCRC. However, leaders in the industry recently got together and created a new moniker for the same offering: Life Plan Community. It was thought that the name "Life Plan Community" more accurately described what these communities offer. For residents, it's not just about receiving care, it's about actively making plans. At Moldaw, we agree. By moving to our high-end retirement community, you're planning your future — a future filled with lively, fascinating people who share your interests and inspire you every day; and where your smart financial decisions will leave a legacy for your children.
how do life plan
communities work?
Life Plan Community finances can be confusing, but we'll break it down simply. There are two different types of fees residents pay when they move into a Life Plan Community or CCRC: entrance fees and monthly fees.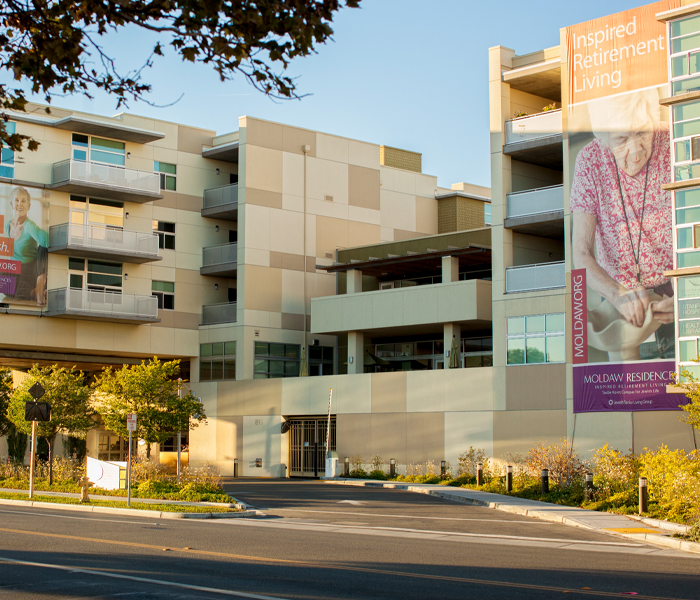 Entrance Fees
The first type is a refundable or non-refundable entrance fee, a sum of money paid before move-in to secure a place in the community and ensure that the resident will be eligible for a higher level of care in the future. A non-refundable entrance fee generally has a lower cost. However, none of the fee will be returned to a resident or their family should he or she leave the community. Refundable fees, which are offered at Moldaw, are usually higher in initial cost, but 85% of the fee will be returned when a resident leaves the community. One other benefit of an entrance fee: A portion of the Entrance Fee may be tax deductible since it helps pay for medical and long-term care services like assisted living and memory care.
Monthly Fees
The second type of fee is a monthly fee, which simply covers the monthly expenses of living in a community, including utilities, dining, activities, gym membership, inside and outside maintenance, security, housekeeping, transportation and more. One important thing to look at when you're considering the amount of a monthly fee is what it covers. Many of the expenses you'd pay for separately when living in your own home will be paid by your monthly fee.

what are the different
levels of care?
In a Life Plan Community, there are usually several levels of living, which together make up a continuum of care. 
To help you identify your needs, here are the different levels of care:
Independent Living
Independent living is perfect for people who wish to live independently in their own private residence, but enjoy having access to the many advantages of life in a community. This is especially true at Moldaw, with its ideal location at a vibrant town center that includes a performing arts center, Jewish Community Center, health club with pools and fitness classes, restaurant-style dining, modern residences, opportunities to connect with other generations and cultures, valet parking, social activities and transportation. High-end independent living residences make life worry-free, with home repairs and other responsibilities of day-to-day life taken care of by the community. These plush, well-appointed residences come equipped with full kitchens, but cooking is optional with gourmet dining just steps away.
Assisted Living
Individuals who prefer to live independently in their own residence, but need a little extra help during their daily lives, may want to consider Assisted Living. Residents in Assisted Living are supported with a range of activities depending on their individual needs, including: bathing, dressing, taking medications and more.
Memory Care
Memory care provides specialized care for people with memory issues, including Alzheimer's disease and other forms of dementia. Moldaw's memory care program provides residents with the latest innovative treatments. Team members specially trained in handling the challenges that come with memory-related conditions are there to help residents with activities of daily living while fostering their self-esteem and sense of purpose.
Skilled Nursing
Skilled nursing care is suited to individuals who need 24-hour care that can only be performed by licensed nurses. Should you or a loved one need skilled nursing care, we can work with you to find services off-site from vetted providers that live up to the high Moldaw standards.
Concierge-Style Rehabilitation
Residents who are recovering from an illness, injury or operation can receive onsite concierge-style physical, occupational and speech therapy services through our partnership with ONR, a national leader in rehabilitation. This customized program focuses on helping residents regain independence so they can get back to the life they love.