"How can seniors strengthen their immune systems?" This is a common question for many who want to improve their health as they age. A strong immune system in older age starts with implementing or continuing to make healthy lifestyle choices, protecting yourself from illness, connecting with others, and developing awareness about your daily habits.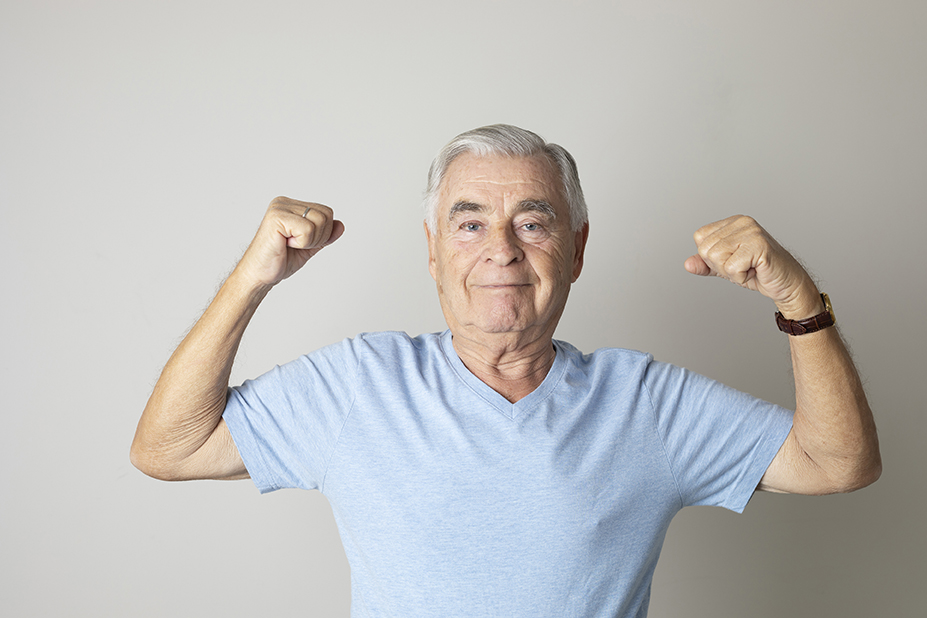 Life Care Services® believes in supporting seniors and their immune systems so they can live life to the fullest. We've compiled a complete guide that older adults can use to protect their health with nine best practices.
1. Be health-conscious
The idea of living a "health-conscious" life looks different for everyone. When it comes to matching your age and immune system with invigorating habits, this may mean making better eating choices, removing yourself from stressful situations, or seeking out new ways to have fun. Having a health-conscious lifestyle is the foundation for building and sustaining your immune system. With a little effort, you will start to see the benefits almost immediately.
2. Stay up to date with shots and vaccinations
It's no secret that our immune systems as older adults start to weaken, making us more susceptible to infection and illness. When determining how to boost immune systems for seniors, health officials consider these susceptibilities and provide options to fight against illnesses like the flu. For example, the Centers for Disease Control (CDC) indicates that the New England Journal of Medicine found that a high-dose vaccine is 24% more effective in preventing flu in adults 65 years and older relative to a standard-dose vaccine. Vaccinations help seniors train their bodies to ward off various illnesses that protect immune systems. Medical professionals can provide a list of recommended vaccinations so you or your loved one stays up to date.
3. Wash hands regularly
Washing our hands with soap and warm water is important at any age, but is especially critical for senior immune system protection. It's best to lather with a disinfectant soap for at least 20 seconds, completing the cycle often. Hand washing should take place anytime you cough or blow your nose, before and after you eat or prepare a meal, and after using the restroom.
4. Consume immune system-boosting nutrients and minerals
While dietary restrictions may apply, there are several nutrients known to help the immune system including foods with the following:
Vitamin C, D, E, and A
Iron
Folic acid
Zinc
Each nutrient should only be consumed in specific quantities recommended by the Food and Drug Administration (FDA).
5. Eat healthy foods
A balanced diet will provide the nutrients described above. Focus on consuming foods such as fruits, vegetables, whole grains, lean meats, and other heart-healthy proteins. Just as important is the need to remain hydrated. Drink plenty of water throughout the day to not quench your thirst, but to assist with the absorption of healthy foods while also flushing out harmful waste and toxins.
6. Get the right amount of sleep
We often hear for children and teenagers who are growing that a full eight hours of sleep is more important than it is for adults. A full night's rest for older adults is equally if not more important, as sleep deprivation can negatively impact the immune system. Seniors need quality sleep to protect their bodies as they age, and should keep to a regular sleep routine to help avoid illness. While seven to nine hours is generally recommended, it's best to work with a sleep professional to determine the right amount of sleep for each individual.
7. Exercise regularly
Staying active and enjoying physical activities is a great way to protect the immune system at an older age. While walking or completing traditional cardiovascular exercises are possibilities, there are many options for all fitness levels. Great activities include water aerobics or even cycling. Find ways to boost your immune system with exercises for seniors that are fun!
8. Remove stressors
Financial concerns, chores, and many other obligations cause stress. Chronic stress and fatigue can be detrimental to the immune system of an older adult. That's why it's important to manage and remove stressors where possible, replacing them with activities and friendships that spark joy and happiness. Redefining lifestyle choices is often a big step but it is extremely helpful to living happier and healthier.
9. Limit/get rid of unhealthy vices
Alcohol consumption is another factor that has been found to weaken senior immune systems. It's important to limit alcohol intake to only one or two drinks per day. Additionally, habits like smoking are also harmful and can cause a wide variety of health problems and older adults are encouraged to quit.
Promoting Healthy, Fulfilling Lifestyles in Life Care Services Communities
Immune system protection is only one aspect for seniors to consider as they age. Growing older is also an experience that should be embraced for the fun and excitement that is yet to come. Life Care Services has several senior living options for older adults to enjoy and to receive care when necessary. From Independent Living to Memory Care and Assisted Living to Skilled Nursing, we provide services for residents with a wide variety of needs. With over 130 communities across the U.S., we have a place for everyone. Find your community, today!